Travel fast and comfortable with Kautra Plus. Go on vacation and take your friends along on our new and modern buses.
Kautra Plus buses guarantee more luxurious travelling, a variety of entertainment and new experiences all across Lithuania. This is the highest standard of intercity bus services in Lithuania available on new and comfortable German Setra buses that offer a wide range of onboard entertainment, including free movies, music, e-magazines, extremely fast 4G Internet, electrical outlets for charging your devices, restrooms and other many other services onboard.
Get aboard on one of our eighteen Kautra Plus buses can go to any place you like all over Lithuania.  Travel in style and comfortably between the largest Lithuanian cities, the seaside, Druskininkai resort town and even the most remote corners of the country.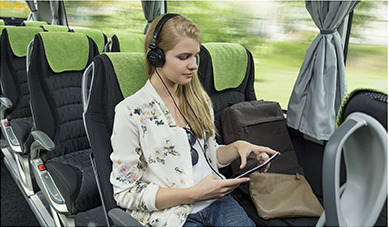 Plus entertainment
Watch movies for free, listen to popular music and read e-magazines available at our Media Center. Once you board a Kautra Plus bus, connect to our free Wi-Fi, enter media.kautra.lt in your browser and enjoy a totally new experience of traveling.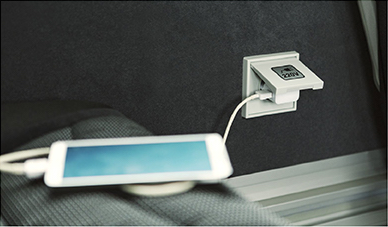 Plus energy
Use your laptop, your smartphone or your tablet with no worries about the dying battery because you can immediately recharge your device using the electrical outlets that are located by the seats under the windows.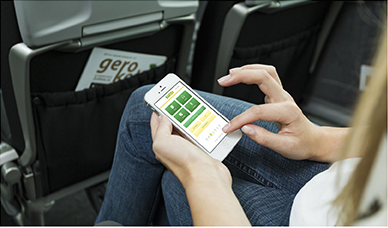 Plus internet
For even more convenience, Kautra Plus buses have the extremely fast 4G Internet. Communicate with your friends online and receive the latest news while traveling.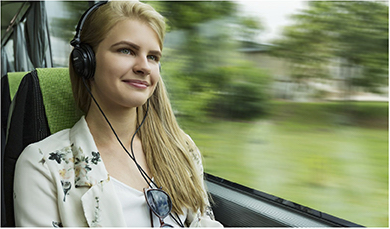 Plus comfort
Our new buses offer significantly more comfort with especially luxurious Setra Voyage seats, more room between the seats, and more room for stretching your legs.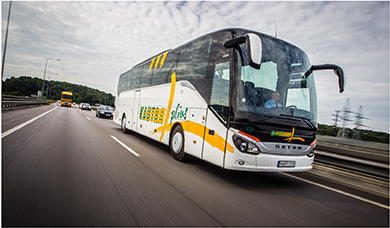 New buses
We guarantee that you will enjoy every mile travelled aboard our premium class Setra buses.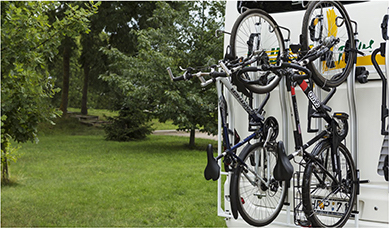 Plus bicycles
Take your bicycle with you on a Kautra Plus bus for free! All the buses have clean and tidy onboard restrooms and air conditioning and heating systems that will keep you comfortable, no matter the weather.
As of this year, in addition to servicing the most popular routes connecting the major cities of Lithuania, such as Vilnius, Kaunas, Klaipėda, Panevėžys and Šiauliai, Kautra Plus buses started going to some of the most remote towns, such as Biržai, Mažeikiai and Naujoji Akmenė.
Kautra Plus bus tickets can be purchased online at  www.autobusubilietai.lt or at the ticket counters in the bus stations. Leave the hard work of driving to professional drivers, kick back and enjoy a well-deserved rest, finish up your work or simply let our Media Center entertain you all trip long!